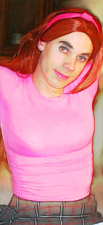 Hi, my name is Katie-Ann, and this is my blog about being a TGirl

I'll be posting information about what a TGirl is and is not, what it's like to be a TGirl, and my hobby of being a porn model. Probably some other stuff too.
I live in super-conservative Cincinnati, OH, USA. I have a 9-5 day job with a large company doing Research and Development. And outside of my house I'm just a "normal" guy. I have an MS in Biochemistry, and I like computer games (role-playing and first person shooters), photography, backpacking, and hockey.
I've been dressing since I was about 8 years old, and started going "all the way" in college. My website, TheCrossdresser.com has been online for almost 4 years, and prior to that I ran a Yahoo group where I posted pictures of myself for about a year.