May 4th, 2008
Well it's about time spring got here! I had been planning on doing some yardwork yesterday, but when I looked outside it was raining . . . so I decided to get dressed up and go plan in the rain instead

I found this perfect little pink dress that I knew would be completely transparent once it got wet, and pulled on a pair of completely sheer nylon pantyhose (when nylon gets wet, it clings so tight to you that it's like a second skin – I love it!).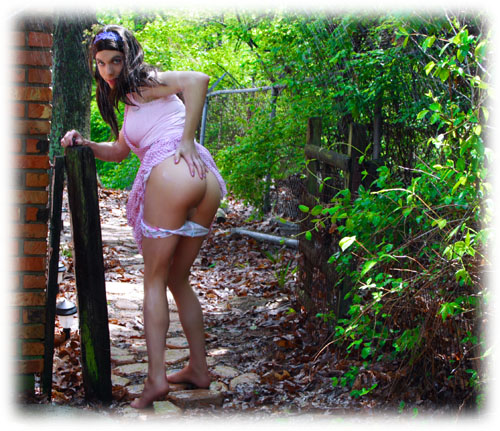 What I failed to realize though, is that I was just a little too excited for spring to be here, and the rain was freezing cold! Ok, well not literally freezing, but cold enough that my breath caught in my throat when it hit me.

You know that feeling? Well it was still kind of fun anyway, and it was making me giggle when the really big drops of rain hit me and I couldn't breathe for a second. But I couldn't stay out and play for long unfortunately. Not that it stopped me from getting a few cute pics though!