January 19th, 2009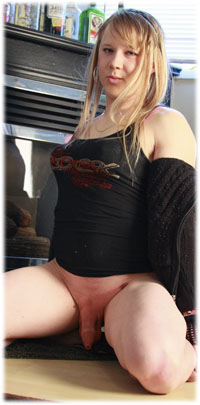 I must be a glutton for punishment (and I don't mean the spanking kind

) because I just spent the coldest weekend of the year so far in Canada. But that's ok because I had some great company to help keep me warm – Kate here is my newest model on The Crossdresser .com, and oh my god is she adorable! I featured Kate back in December in the members area with a handful of photos she sent me, and I got such a great response about her that I asked her to do a full shoot with me this weekend.
It's a good thing Kate is so cute though, because not only did I freeze my ass off in Canada this weekend, I also got stopped by the US Border Patrol on the way home – they were apparently suspicious about why I had a car full of cameras and girl clothes . . . ya, that was a fun explanation. But actually as soon as they found out I run a porn site, they became much nicer and less suspicious. Go figure.
Anyway, back to the important stuff – my sexy new model

I have to admit, tgirl Kate's self portraits were very cute, but I had no idea how hot she was going to be in person! I love her beautiful blond hair and that sexy pouty smile she's got. And Kate was a dream in front of the camera, like she was  born to model. Oh yes, and let's not forget that Kate has a little surprise for you in her panties, just like me

Actually, she's hung like a horse with a big thick uncut tgirl cock (it was quite a mouthfull, but you don't have to take my word for that – I have photos of me trying to swallow Kate's swollen clitty, hehe).
Be sure to check out Kate's first full feature set, coming soon at TheCrossdresser.com!