December 17th, 2007
I took this picture for fun, but had no idea what to do with it . . . so I thought I'd post an entry all about it . . . because I LOVE pantyhose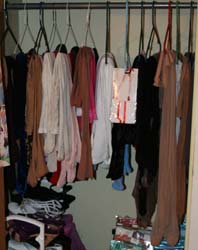 This is a pic of my pantyhose closet. Yes, that's right, I have an entire closet dedicated to pantyhose. It's a shame you can't see more detail, because there are several hundred pairs stuffed in that closet, organized by type and color.
I have a hanger of "regular" pantyhose, you know, the boring kind that I like to wear daily so I don't damage my good ones. Not saying they're crappy pantyhose, I don't own crappy pantyhose. Just that there's nothing special about that hanger.
Then I've got a hanger of special pantyhose, stuff that's hard to find or expensive, like neon green fishnets or super-duper shaping pantyhose.
There's another hanger dedicated to 100% nylon thigh highs, you know the old-fashioned type that are super sheer. And another hanger for non-traditional thigh highs like my 100″ long cotton socks and my fuzzy velvet ones.
Then there's the footless tight hanger. I'm sure you can't guess what's on that one! Normally I prefer footed tights, but there's some really crazy patterns and colors that they're making in footless tights that you just can't get anywhere else . . . so I started a small collection.
Next are "regular" tights – just colored and opaque. Then come textured tights, like ribbed or cabled. And then unique tights like the pair with a flame print, or the pair with irridescant blue threads.
And then there's the box of pantyhose that I haven't opened yet . . . I got this amazing deal on Ebay for a whole collection of pantyhose. Must have been a store going out of business or something, but it was 100 pairs, and it's going to be awhile before I actually work my way through all of them!