February 24th, 2008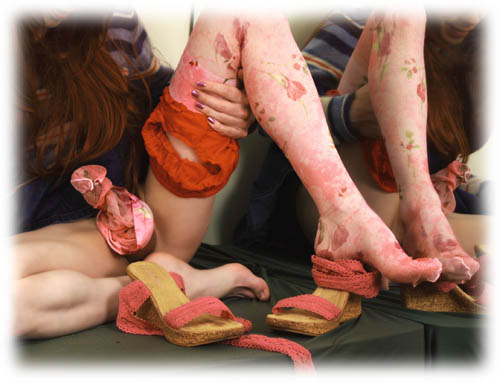 Sure, a good pair of thigh highs feel great on your legs, but every tgirl knows that they also feel great in more intimate places! Ok, to be fair, I would be happy to wear pantyhose on my entire body (recall my zentai pic?), but I think most crossdressers would at least agree that stockings feel pretty wonderful against your cock. And they look pretty snazzy like that too

Anyway, I posted this photoset to The Crossdresser .com last week and am posting the video to the set as I type. And it just reminded me of how much I enjoyed this shoot – not only because of the really amazing thigh highs and how great they looked with my new sandals (another pic in this earlier post), but also because I got to play with a new toy!
Yup, new toy. I know you can't see it in the above pic, but I actually had the Aneros male G-spot massager in me at the time. So here's my honest review of the toy. First and foremost, it feels good. You can definitely tell by my face in the video as I slipped this thing in that I was enjoying it, and though I didn't realize it at the time you can also see my cock twitching every time it shifted a little inside. I have to admit, however, that it did not quite live up to the hype that I read about it. The Aneros gives a very subtle and gentle pressure against the prostate, and while it feels nice, it certainly is not going to cause an orgasm by itself, let alone a super-amazing orgasm as advertised. Also the arm that is supposed to rub your perineum is rather narrow, so it slips around a good bit (meaning it doesn't provide pressure where you really want it usually) and after a bit starts to dig into the skin and become uncomfortable.
Bottom line on the Aneros, it's a good start and un-intimidating for those new to anal play, but it doesn't work miracles. Aneros does have some newer versions of the toy out, and a few other companies have recently released similar toys (Aneros was the first patented and medically researched prostate massager, so not sure if the others are "knock-offs" or actual improvements). So I haven't given up hope on finding a super-amazing prostate orgasm, but personally I think it's going to require a different toy for me.