March 9th, 2008
It's been awhile since my last post because I spent most of this week out of town on a business trip for my day job. And I was kind of excited about it because I figured I'd have lots of time to take pics for The Crossdresser .com in my (expensive) hotel room . . . but no such luck – the trip was crazy hectic, the hotel room was small and poorly lit, and I ended up getting sick.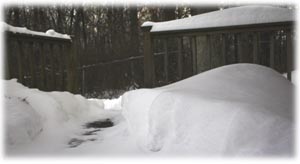 Then when I left the hotel to drive home, I started hearing rumors about getting 12″ of snow . . . and sure enough by the time I got home there was a level 3 snow emergency and blizzard warnings out. That pic up there is my front porch after I shoveled a walkway through the 3-feet deep drifts

After being out of town for a week, I had literally no food in the house, so I had to go back out to the grocery store the next morning.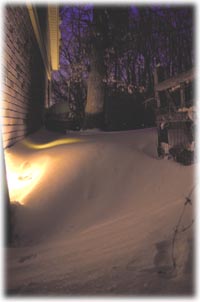 The only good thing that came of this week is this really cool pic I managed to get of my landscape lights completely buried and shining up through the snow. And yes, it's an HDR photo too. I'm getting better at this HDR thing . . . maybe

I still think this looked better in real life, but overall it's still a neat photo (imho

).
Anyway, I will hopefully catch up on posts this week, I've got a small stockpile of things to write about!