June 29th, 2008
I thought it might be helpful to start reviewing all the makeup I use, similar to the way I review new sex toys when I use them

I know when I walk down the makeup aisle at least, I never know what to pick up. And there's always someone in the aisle I want to browse who looks at me funny when I stop to peruse the make-up! Well hopefully these new posts will help make it easier for you to cruise down the make-up aisle and grab what you need before anyone can stare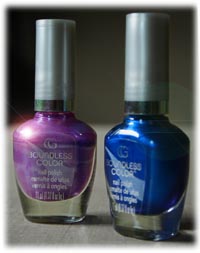 I'm going to start with CoverGirl's Boundless Color nailpolish line. Because . . . I like it. So there. The label is very simple and unobtrusive (as you can see in the pic), but the polish itself is really vibrant and pearlescent. My pic doesn't quite do that part justice – it's very sparkly and has swirls of different color shades. It should jump out at you.
Well, now that you know how to find the stuff when you're shopping in drab, here's what I think of this nailpolish for crossdressing. The colors are just as vibrant on your fingernails as they are in the bottle (which is often not the case if you get the wrong polish). This polish is surprisingly thin, however, so it takes a little getting used to. For a beginning crossdresser though, thin is wonderful – it spreads smoothly and evenly, you get a little extra "working time" in case you mess something up, and it will store longer without getting sticky.
The only problem I've had with the Boundless Color nailpolish is that the blue polish is SO saturated that it coats a little unevenly. You'll need two coats to make this color look good (and I assume that goes for any of the darker colors), but don't worry – the first coat will be nice and thin with no clumps. The second coat goes on easy and just evens out the color. The pink nailpolish is just spectacular and looks great with a single coat

Stay tuned for more makeup reviews in the near future!