August 27th, 2008
Wow, August has been a rough month. I can't believe it's almost over. I can't believe the summer's almost over. I feel like I've hardly been home. Maybe because I haven't. But oh well, that's life for a career tgirl I guess. At least I've kept up on weekly updates at The Crossdresser .com – my members are my priority, and I don't like to let them down!
Well anyway, my travels did at least take me one interesting place: Iowa. I know, sounds really exciting, doesn't it?

Well the best kept secret in Iowa is their gas stations – I was so impressed, I bought this shirt at one of them: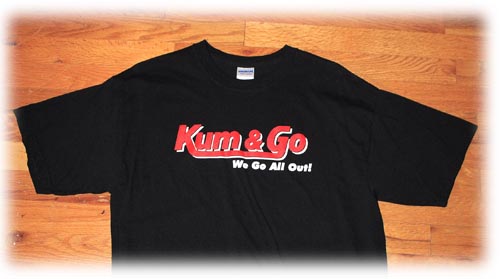 That's right, Iowa is home to the "Kum & Go" chain of gas stations! Now seriously, who gives a gas station a name like that


And they must realize the implication of their name (even in Iowa) because their tagline is even "We Go All Out" . . . which I suppose is slightly better than "Stick It In and Pull It Out".
Apparently now there are 430 Kum & Go's in 12 states . . . basically pick a boring state, and they probably have a store there. If you go to the Kum & Go website (yes, it is actually www.KumAndGo.com) they claim their name kame from the initials of their founders: W.A. "Kum" Krause and T.S. "Go" Gentle. Riiiight.

It does make you wonder though, could they possibly be that clueless?
So anyway, props to Iowa for keeping me entertained with thoughts of Cumming and Going all the way back to Ohio. :cheer: Definitely the highlight of my month.
I will be picking up again on the posts here shortly (and on topic crossdressing posts at that!), but I just couldn't pass this one up.