August 16th, 2008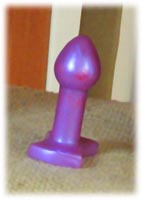 It's no surprise where the name of the Tantus Ace butt plug comes from. It looks like a giant spade stuck on a pole. The photo doesn't do this thing justice – it's 1.65″ across at its widest point, and 4.25″ long. This guy is no smooth insertion like those long cone-shaped butt plugs. The Ace flares out quickly and is a bit difficult to work in . . . but once it's inside, the bulbous head rubs against your p-spot oh so nicely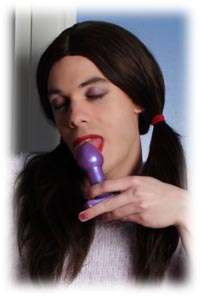 Yes, it's that last little feature that makes me love my Ace. I've never found another butt plug that can massage my prostate the same way. Now, there are some p-spot stimulators that can provide a more intense sensation, but for a completely hands-off toy, the Ace really hits the spot (no pun intended

)
Tantus toys are also made of silicone, so they're hypo-allergenic and easy to clean. Not to mention that it sounds cool to have silicone toys . . . It's a bit firmer than latex, and more resilient. Both of which are important the way I abuse these things!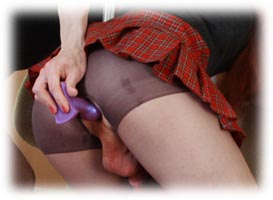 Speaking of abusing my toys, here I am trying to work the Ace into my tight ass. I told you, it's no easy task! I've used this toy twice now, for two different photosets. If you work it in slowly, it really feels great to cum with the Ace in your ass (that's what I did in my second set).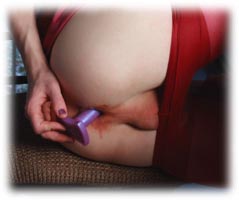 The first time I tried out the Ace though, I wasn't careful enough. I spent a good 20 min struggling to get it in my ass (did I mention I have a really tight ass?

) and at the end of all that I really tore the shit out of myself. You would've thought I'd been anally raped without lube the way I was bleeding

Don't worry, I healed up, learned my lesson, and didn't take it out on the toy. The Tantus Ace is a lot of fun, but be careful with it! You can't say I didn't warn you . . .