December 12th, 2008
I know, I was being a total tease in my last post when I mentioned the new zentai set that I did. So I decided to be nice and show you my newest debauchery. I mean, what could be worse than Hello Kitty porn :cat: . . . other than crossdressing Hello Kitty porn!

:cat:

Oh wait. Crossdressing Cosplay Hello Kitty porn . . . I ran out of creepy emoticons for that one.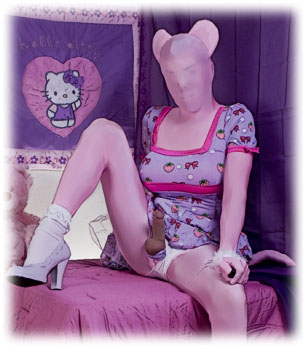 So without further ado, I present Katie Cat – Hello Kitty's evil twin sister . . . brother . . . crossdressing . . . sex robot! Hey, it's my fantasy, I can be an evil-twin transgendered feline sexbot if I want to! Who's going to stop me, hmm? That's what I though

And I learned my lesson about greenscreens, so I built this entire set in real life to perfectly simulate a cartoon background . . . there is definitely something wrong with that, isn't there? Now I just need to find someone who wants to fuck a transgendered cartoon character in real life, and I'll be set. I could start my own xentai reality show! How cool would that be?