September 25th, 2010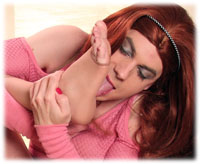 From time to time working in the porn industry I run into some strange stuff. I get some strange requests. And, well . . . I do some strange things

A few weeks ago I got a request to see me licking my own toes. I bet there are some people out there wondering what could possibly be strange about that request, and I bet there are others who had never even fathomed that a person might want to do such a thing. And then there's me. I don't really think there's anything strange about toe sucking or foot licking, but I had never really considered that sucking my *own* toes might be erotic.

As a crossdresser, I find it very hard to question anyone else's fetish though, so when I got the request I just thought, "ooh, that's something new" and went to work finding an outfit and a set

It must come with the territory (crossdressing) or something, but there is not much in the world that I find a turn-off. I'm too busy being excited about fulfilling someone's fantasy and being a turn-on for them. So maybe you can tell how excited I was when I started sucking on my toes, knowing that someone would be watching and loving every second of it. And if you can't tell from my rock hard cock, perhaps it will be more evident when you take a look at the full set in my members-only area at TheCrossdresser.com and see the size of the cum load that I filled my dress shoes with. Or the way I eagerly drank my own cum out of my shoe and licked it clean when I was done. Or maybe it's just in the way my crossdresser clitty surged with excitement every time I thrust my fat glass dildo into my ass with my toes in my mouth.
The only problem I had with this set was deciding what to wear! You probably already know how much I love pantyhose and stockings, and especially multiple layers of pantyhose (which I thought would look amazing with the lighting I had set up), but I know most toe licking is done barefoot . . . so I was really torn. But I think I found the perfect solution! A pair of toeless (not footless) pantyhose with a little stirrup between my toes to keep them in place over my feet while showing off my bright red painted toenails. And they were crotchless to boot, with plenty of room to show off my hard cock and fit my toy into my ass at the same time. Where do I find all these perfect pantyhose?? Then to satisfy my own love of layered nylons, I slipped into a pair of black thigh high stockings as well. I couldn't help sucking on my nylon covered toes first, I love the way the wet material glistens . . . then I slowly peeled off one stocking with my teeth before indulging my members in some good old fashioned foot licking and bare toe sucking

What do you think, did I do a good job with my newest fetish?