July 31st, 2011
Allie and I haven't had much time recently to take crossdressing photos, but last night we finally found some free time and were both in the mood. I've been waiting forever to see Allie dressed up in black stockings and her new red leather t-strap heels (I was so excited when I found those for her

). I didn't have anything particularly inspiring to wear, but we decided to do matching outfits so I dug out some red sandals and black thigh highs as well. And we had these adorable matching purple skirts that needed to be put to a good use.
You'd think with outfits like that it would be pretty obvious that we were up to no good

We headed out to the club to try and find someone to come home with us, but we must have picked an off night because the crowd was pretty dull. So Allie and I both came home empty handed. Not wanting to put such scandalous outfits to waste, I set up the cameras and tried to convince Allie to take some photos with me (and in the process get some pussy for my aching crossdresser cock). Lucky for me, Allie was both drunk and horny, so convincing her was no problem. Convincing her to give me a turn even after 5 orgasms on the other hand was a different story. Guess she was more horny than I had realized at first.
Well I finally got Allie to put down her magic wand and let me fuck her. She even climbed on top and rode me reverse cowgirl. I was just thinking I was the luckiest crossdresser ever when I felt her start to squeeze her pussy in the strangest way. It didn't feel bad, but Allie was really tight after 5 orgasms, and I could tell she was up to something. So of course I asked what she was doing, and she looked back at me completely straight-faced and said that she was trying to pee on my cock, but she couldn't get it to come out! So here's a photo of my girlfriend trying to piss on my cock because she was drunk and wanted to get back at me for cutting her off at 4 orgasms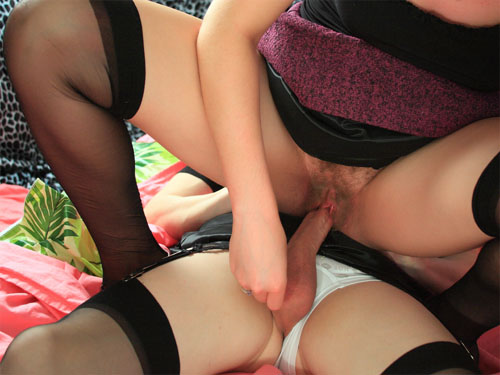 Yes, I took a photo just because I thought it was funny she was trying so hard to pee on my cock and couldn't do it. Well apparently I shouldn't have laughed at her so much, because a few minutes later Allie started to moan a bit and my cock started feeling really warm. And then I felt something splashing on my legs and dripping on my white panties. Pretty soon I was laying in a puddle of Allie's warm pee that had collected in my skirt as she emptied her bladder down my cock while I fucked her.
Ok, I admit, I really enjoyed how warm and wet it felt, and as Allie stood up and I saw the last little dribble of pee fall from her pussy onto my chest I grabbed by pee soaked cock and started jerking hard. I ended up cumming all over my girlfriend's black stockings, right across her foot. Yeah, it ended up being a good night after all