March 11th, 2012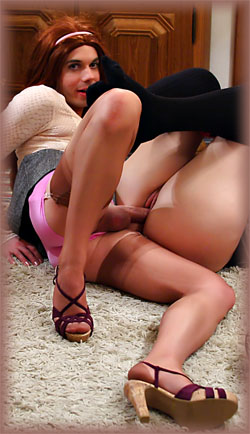 Well it only took 2 trips to Germany to finally get to take some sexy crossdressing photos in a European hotel room . . . but I think it was worth the wait

I had this whole plan to do a neat bathtub shoot (bathtubs in Germany are particularly well suited to taking photos, with the little glass half wall for the shower and a detachable showerhead), but when Allie and I walked in to our gorgeous hotel room everything changed. This room was built in to a 1000 year old stone wall surrounding the little city we were in, and was decked out with antique hardwood and leather furniture. The only thing better than the room was the view we had overlooking the entire river valley below us.
But enough about the room – it was just there to set a perfect stage for some kinky European sex

Allie and I luckily both had outfits to match the scene: tiny little miniskirts, layered tops, some eye-catching heels, and of course the stockings. Allie was sporting a pair of black cashmere wool tights with a cableknit pattern (it was winter in Germany afterall), while I wore sinfully sheer vintage nylon stockings with a gartered waist cincher. I felt so incredibly sexy in my outfit, and I couldn't stop rubbing myself against Allie's legs, feeling the soft fabric of her wool tights.
I had fully intended to fuck Allie in one of the overstuffed antique chairs in our room, but after I pulled her to the floor and licked her juicy clit to a super powerful orgasm as she laid on the soft shag rug in the room, I couldn't help but rub my throbbing crossdresser clitty against her sopping wet pussy. And of course one thing lead to another, and pretty soon I was going to town banging my girlfriend on the hotel room floor with her tights still wrapped around her knees. Luckily I had enough willpower to grab her and flip her up on all fours, planning to finish doggy style with one of my famous crossdresser cumshots all over her ass. Allie had slightly different plans though, as she quickly turned around and swallowed my cock, sucking her own girl cum off of my massive clitty, then pulling my panties aside and deep throating my clitty so she could lick my swollen balls.
I guess the hotel room and our Eurpoean outfits (and perhaps her massive orgasm too) had really gotten to Allie – she was acting like a full blown porn star, and I was in crossdresser heaven. I didn't have much left in me at that point, but don't worry – I did manage to get Allie turned around again and pound her sexy pussy doggy style before cumming all over her

You should have seen all of my cum dripping down her ass and running over her gaping pussy! Well, actually you can see it. I'll be posting ALL of the photos and video over at TheCrossdresser.com now that I'm back home in the States again.