July 17th, 2016
Phew, I'm a little behind on this whole blogging thing! Luckily I've managed to keep more-or-less up to date on TheCrossdresser.com, but blogging has clearly not been a priority lately. And frankly my crossdressing has suffered as well – I only spend half as much time dressed these days as I used to

But hopefully all that's about to change, and this post is proof! Ok, well I shouldn't get ahead of myself I suppose, but I'm going to try and do better keeping up.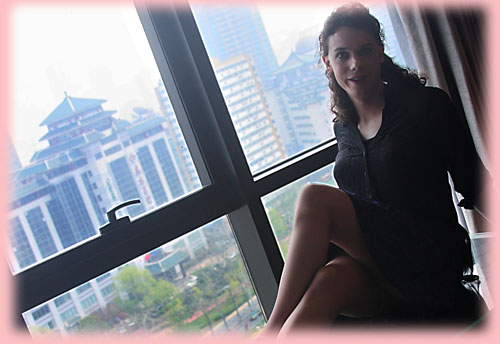 So here's the reason I'm so far behind. 2 years ago my day job sent me to China again. Clearly evidenced in the photo above – I mean, where else do you find architecture like that outside your window? And not for some little 3 week trip this time, but for a 6 month "extended" business trip. Extended of course being a rather severe understatement. Well 6 months turned in to 8 months, and then there was some debate about actually moving me to China for a couple years . . . And then finally after about 15 months in China they officially moved me here. That might not sound so terrible, but remember that China and porn don't exactly get along. Nor does China and crossdressing. And on top of that, I spent 15 months without my wardrobe or computers. Which needless to say made crossdressing and updating websites a little challenging.
Of course, I wasn't about to embark on a 6 month business trip without any of my Katie clothes! I certainly brought some along and continued posting updates to TheCrossdresser.com . . . I just didn't have quite the variety and selection I'm typically accustomed to. Not to mention that it became a lot more difficult to pick up last minute props for sets and stuff like that.
Well anyway, I'm not in China with all my stuff. I'm starting to settle in to my routines and re-organize all my files. And with a little luck, I will be posting like crazy again here soon