May 31st, 2009
I know I've mentioned it before, but I love doing special requests for my members

I just really get off on the idea of making someone's exact fantasy come true. I guess lots of porn sites let members "suggest" sets for the models to do, but at TheCrossdresser.com I handle requests differently – I actually enjoy hearing from my members and letting them tell me exactly what they want to see in all the graphic details they care to provide!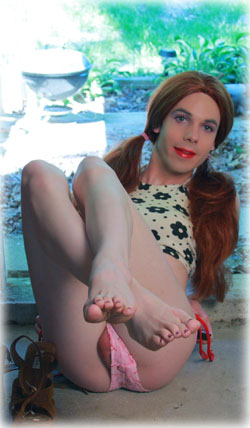 Here's a photo from a request that I just posted this weekend. You'll probably notice two things right away that seem out of place. First, I'm barefoot – no pantyhose or socks in sight, though there is a cute pair of strappy sandals sitting next to me. Second, I'm not wearing a skirt or dress – in case you can't tell, I'm actually in a swimsuit. These may well be two of the rarest things to see me with (or without as the case may be) in a set, and here I am doing both in the same photo!
The reason for this outfit of course is because a member requested it – specifically, a set where I'm "barefoot and cum on my toes, preferably in a bathing suit and starting the scene in a pair of flip flops or strappy sandals". He also requested that I point my bare toes at the camera while I toy my pussy and masturbate (which i also did exactly to order, but you'll have to sign up to my website to see that photo! As well as the ones of me cumming gallons on my bare feet

)
Ok, so the point of telling you all this is that I put a lot of effort into doing a request EXACTLY the way it's requested. I'm not just trying to get free inspiration for sets, I really want to make your personal fantasy come true

Because even if your personal fantasy isn't something I normally do, or isn't something I'd normally be into . . . the thought of how excited I will make you when I play out your fantasy perfectly will have me rock hard and soaking my panties in no time

And in case you don't believe me about really trying hard just for you, or about how excited it will get me . . . here's an email I got this morning in response to my barefoot swimsuit set:
Hello Katie! WOW! Your photo shoot that you did for me has to be one of the hottest ever! I've never had a request go so perfectly to my wishes. Thank you so much! I've already cum once looking at your perfect feet and I'm sure I will many more times. I could tell how turned on you were in some of the shots where you had your toy in you because I could see a little precum dripping from your clit even before you came!! YUM!! Your poses were perfect and that cumshot was amazing! I wanted to lick it off your pretty pedicured toes. I thoroughly enjoyed this set Katie! You are the best honey! Thank you! Thank you! Thank you!!! Hope there is a video cuming soon. xoxo
So . . . when are you going to join and submit your own request?