June 8th, 2009
I decided to play around with lighting again yesterday. Every now and then I get an urge to do a really elaborate set for the website, so I drag out all of my lighting equipment, rearrange the furniture, and spend a good 8 hours between setup and shooting. Sure, TheCrossdresser.com is primarily an excuse to dress up in pantyhose and other girly clothes, fuck myself with my collection of toys, and entice other girls, boys, and crossdressers to cum play with me . . . but it's also an excuse to work on my photography skills and capture beautiful images that I can be proud of.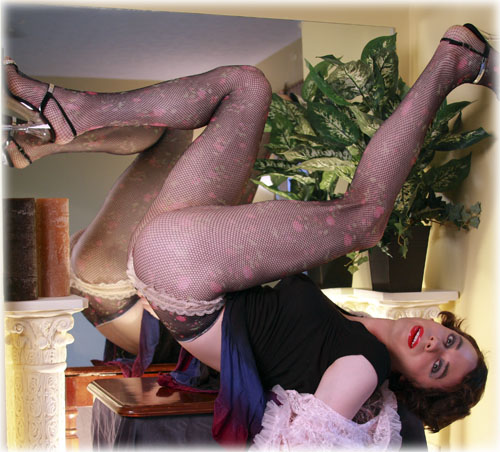 See?

Look out fashion magazines, here I come! Ok, maybe not. But it's still fun to try out new things with crazy lighting arrangements. And yes, sometimes the lights even inspire my poses – My lights were upsidedown here (on the floor), so I thought maybe I should be upside down too

Seriously, I come up with these things mid shoot . . . which perhaps explains a lot about my photography. And my sex life!
I actually liked this lighting arrangement so much that I did a second shoot this weekend with a very similar setup. But in the spirit of trying new things, I went with a classy all glass theme – complete with a brand new glass dildo

That's not exactly the same dildo, but it's pretty close. I have some other cool glass dildos in my store, so check those out too. Glass is actually really difficult to photograph well (even when it's not stuck inside my ass

), but it was no sweat for my fancy lighting.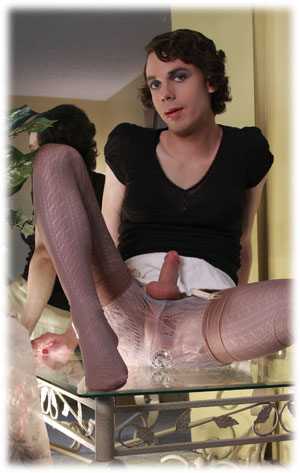 Check out the perfect reflections on the surface of my glass table and the end of my dildo that's still visible. The crochet pantyhose I picked out for this set worked perfectly too – my dildo caught enough light to glow from under my pantyhose that were holding it tightly inside. I love the idea of a pair of pantyhose holding a toy in place (and yes, it feels great too!), but usually it ends up making it too difficult to see the toy through the pantyhose. Not so for my new glass anal plug and studio lights! Ok, and having a pair of pantyhose that were already full of holes helped too

And speaking of pantyhose, check out the crochet tights layered with nylon full fashion thigh highs. It's hard to find good layered pantyhose porn, but not at The Crossdresser .com. I love layers, and I know how to make sure you can see each and every layer of nylon wrapped around my long tgirl legs (or sometimes other long tgirl parts

). Heavily textured tights are great for showing through a very sheer pair of stockings. It's extra yummy when the nylon slouches down a little, so I made sure to get some nice crossdressing pics of that too. Hope you enjoy!