October 26th, 2009
Ok, well actually I never really left. But I'm back to blog writing

I had a very busy summer with lots of work (boo), lots of travel (yeah!), and lots of sex

Lots of sex because . . . I have a new girlfriend, and she loves sex as much as I do. Don't worry, she is totally cool with my crossdressing, and she's even been helping me out with some shoots for the website. Actually, lots of shoots for the website. And I don't mean as the camera-girl either. No, my girl loves getting in on some hot crossdressing action, and she's not the least bit camera shy.
Too good to be true? Take a peek for yourself at my girlfriend's hot ass and stocking clad legs as she strokes my clitty and kisses me: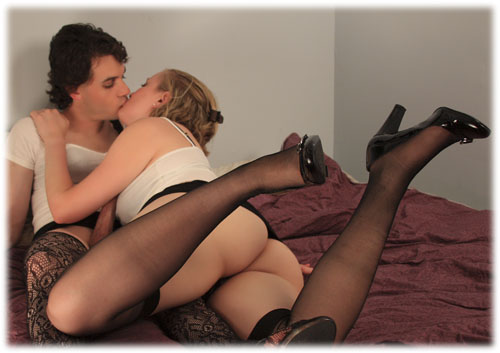 Want to watch as she sucks the cum right out of my crossdresser cock? Bet you wish your girlfriend would dress you up in womens clothes and tease you like mine does

Don't worry, even if you can't find a girl who loves her guy in pantyhose and a short skirt you can always head over to TheCrossdresser.com and check out my hot crossdressing pics. It's ok, you can touch yourself through your panties while you look at them, I won't tell. Maybe I'll even invite you to join in the fun!