November 10th, 2009
I've always enjoyed my slightly trampy teen look and turned my nose up at most refined designer fashion. Which in retrospect is a bit strange, since I have an absolute obsession with pantyhose and stockings, and I find vintage lingerie and makeup quite attractive . . . anyway, I suppose I just never thought I could pull it off. Or didn't want to feel old. Who knows. But recently I've started to develop my taste for the finer things in life. Like single malt scotch, sushi, and Betsey Johnson shoes. I've never been one to indulge myself in designer label clothing, probably because as a crossdresser I only wear my clothes for an hour in front of the camera and then I'm off to find a new outfit. But when my girlfriend Allie asked me to buy her a pair of designer heels . . . I just couldn't turn her down

And if I thought it was hard to turn her down when she showed me a picture of the shoes, she had me trembling on my knees when I bought them for her and she put them on . . .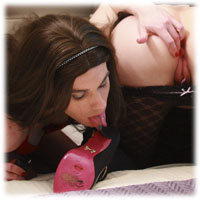 It wasn't long after Allie slipped her stocking clad toes into these sexy sandals and tied the decadent bow around her ankle that I was begging for permission to do so much as lick her satin wrapped stiletto heels. Ok, maybe part of it was the fact that she had spent the past 24 hours in our hotel room teasing me and using my tongue to reach orgasm after blissful orgasm . . . all while keeping careful watch over my engorged clitty so that I couldn't cum myself

Needless to say, Betsey Johnson and I became quite well acquainted by the end of the weekend!
I know it sounds awful, but you know how I like to be tortured . . . especially when I'm dolled up in my finest crossdresser stockings and told that I'm going to be an obedient sex slave for the weekend

And speaking of the weekend, we spent it in a 5-star resort hotel. For free. So I really couldn't complain about being forced to dress up and give my girlfriend repeated orgasms on camera. Besides, I knew she'd eventually give in and let me cum . . .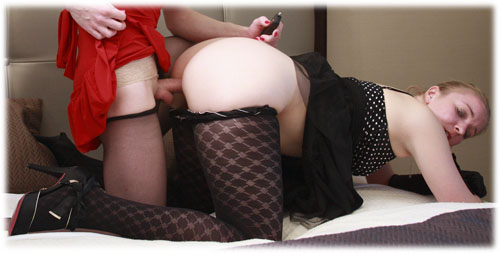 . . . And damn was it a good orgasm when Allie finally let my overfilled crossdresser balls empty their cum all over her sexy velvet gloves and my sheer 7 denier stockings

I was so preoccupied with relieving the pressure that when we finally got the camera and scene all set up and I felt Allie's mouth envelop my crotch and her gloved hands running up my thighs . . . I completely forgot about everything except cumming. Don't worry, I did manage to hold down the shutter button on the camera at least and get some amazing photos . . . but I was worthless for anything else at that point

Ok, and don't tell Allie about this part, but when she was in the shower cleaning up after the set . . . I tried on her Betsey Johnson heels . . . and oh my god are they amazing. Now I just have to figure out how to convince her to let me wear her designer shoes for a crossdressing shoot some day