May 21st, 2009
I don't know why, but I've always had a thing for braces. To the point that it's a pretty serious fetish of mine, along the lines of pigtails, schoolgirl uniforms, redheads, and pantyhose. Not that those fetishes are in any way related

Yes, my formative sexual years were spent at a catholic grade school staring enviously at my female classmates. And while there weren't very many pigtailed redheads with braces who regularly wore pantyhose under their uniforms, you can still start to see where I developed my interests!
Anyway, I always wished that I needed orthodontic braces. I know, a very strange thing for a kid to wish for. But probably no stranger than wishing that I could put on a pair of magical pantyhose and transform into a real girl at will

So naturally when I started making the transforming into a girl fantasy come to life by sharing my crossdressing photos online, I also started looking for cosmetic braces. And I'm proud to say that after years of searching, I've finally found some!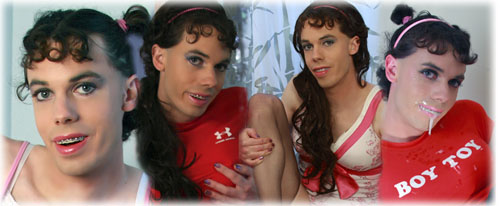 I'm pretty excited about my new orthodontic braces, so I've been wearing them a lot. Though don't worry, if you're not into braces these aren't permanent – they are a veneer that I can put on when I want and take off when I want. How cool is that? And they actually look pretty realistic, don't you think? I spent a ton of time searching for these things.
Generally there are only 2 types of cosmetic braces in the world – halloween costume braces, and retainers made by dentists. The former look like crap, and the later you really have to be comfortable with your dentist to request (and that's no guarantee he will know how or be willing to make them). Real retainers are also uber expensive, and don't expect your insurance to pitch in for them! Anyway, I found these veneers I've been wearing at Dental Distortions. They make orthodontics that are used in Hollywood – including fangs, missing teeth, and you guessed it, braces! So if you're into braces or any other type of orthodontic modification, and you want a non-permanent but realistic effect, I highly recommend them