April 12th, 2010
I don't suppose that I mentioned I was leaving on a trip, but I just got home from a 3-week stay in Beijing, China. And what's a gurl like me doing in the People's Republic you might ask? Well business of course

And not of the porn variety either! Apparently the Chinese government is not particularly fond of porn and does a reasonably thorough job of blocking access to websites and the like that might supply such inappropriate material. Though there is certainly no shortage of adult toy stores (which I was quite surprised to discover). Tempted as I was to buy an official Chinese sex toy, the idea of sticking something from one of those stores into my body just didn't feel quite right – they just don't look as hygienic as the squeaky clean Hustler stores we have back in the States, where sales associates will gladly demonstrate a product with their portable hand sanitizer doused fingers.
I don't think China's too fond of crossdressers either, as they are still slow to accept even homosexuality . . . and at least from a social norms standpoint, I think transgenderism is probably a bit farther out there. I certainly didn't want to push my luck while I was there.
Anyway, I at least didn't waste my time while in my all-expenses-paid 5-star hotel room, and I didn't forget about my members while over there

I took advantage of the nice couch, great view, and oversized shower to do some fun shoots like the one below. And I kept the site updated by accessing my databases via my hosting provider. Hey, a gurl's gotta have priorities!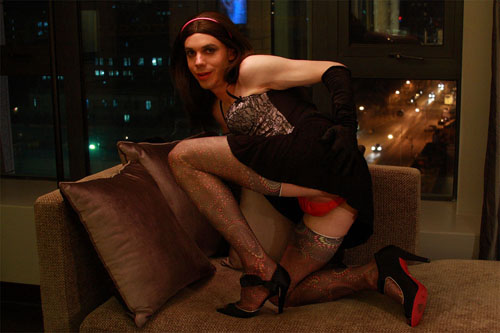 Told you it was a nice view, didn't I? I felt pretty classy in my pattern printed nylon stockings which seem to strangely match the lights of Beijing from my hotel room window. I topped it all off with a nice corset and designer heels that I had originally brought along for my girlfriend Allie to wear in a shoot . . . but she couldn't stay with me the whole time I was there, and we ran out of time. Sad day. So I had to solo my shoots. Don't worry, I'm sure you'll still enjoy them