December 31st, 2010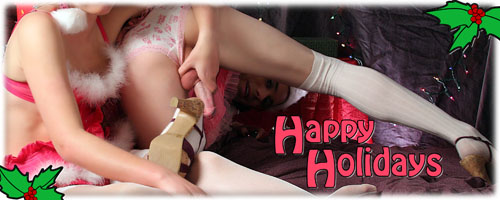 It's the most wonderful time of the year – being on vacation from the day job for the holidays means plenty of time for crossdressing and taking sexy photos

Allie is getting in on the action this year too, as I'm sure you can see from the grip she has on my cock in my first ever tgirl Christmas card photo. With a little luck this will become a yearly crossdressing tradition!
I already posted the first Christmas photos of Allie and me in the members area of TheCrossdresser.com, and I'm pretty proud of the way the set turned out. You might be able to guess from the crossdresser-mas card photo, but I was a little naughty this year, and Allie really took it out on my poor clitty. Shortly after this photo was taken she stuffed my swollen cock into a chastity device and locked it in place. Then she grabbed me by my Santa hat and forced my face into her crotch, holding me there until she came all over my tongue. It wouldn't have been so bad (I love licking pussy after all :p ) if I hadn't been so tightly locked in a CB3000 chastity device. As it was, I was so swollen and tight that I thought I would pop – feeling Allie cum on my tongue was almost more than I could stand. Speaking of which, that part came out rather well in the video which I'll be posting shortly

Lucky for me Allie has a soft spot for my cock, and it was Christmas afterall. Once she was finished taking advantage of my sissy slut tongue, she let me out of my chastity device and directed my deprived crossdresser cock to her waiting pussy. After a desperately vigorous fuck, I pulled out and shot my thick tgirl goo all over Allie's unshaved pussy. It looks really hot dripping down over her hairy bush (she grew it out to match the fur trim of her Christmas outfit), but you'll have to log in to the members area to see those photos!
I'm looking forward to tomorrow when Allie and I will be doing our first New Years celebration photos, complete with a bottle (or two) of champagne

Hopefully New Years crossdressing will become a yearly tradition too!