May 25th, 2008
Wow

I just had the most amazing anal toy experience imaginable. I don't know about the rest of you, but I never understood all the hype about anal sex and the p-spot. Don't get me wrong, I can find my prostate, and it feels good . . . but no matter how hard I tried, I could never get even remotely close to actually orgasming. Not even with the medically licensed anatomically correct Aneros. Until tonight.
I've tried a bunch of anal toys in my time as a porn model

Everything from my fingers, to homemade implements, to the Aneros. But nothing could quite get that perfect combination of pressure and comfort. All that changed when I tried the RudeBoy tonight. Well ok, to be fair I tried the RudeBoy a few other times, and it was oh-so-close to being perfect . . . but not quite there. I've used a few toys that could get me going pretty good, but even a small butt plug on the right day can make me desperate to cum. But there was something different about the RudeBoy, something that made me think it might actually be right . . .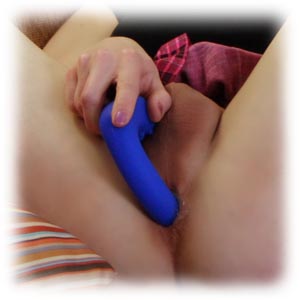 Maybe it's the shape. It's like a giant letter "C", curved enough that I swore once I got the thing inside me I should see it poking out my belly like the diner scene from Spaceballs (or the original from Alien, but I couldn't find a clip of that).
Anyway, don't be scared of it (I've not birthed any aliens since playing with it

), but relax and give this toy a little time. It was easy enough to get to the point where I was oozing and dripping pre-cum like never before, but the ride wasn't over yet! I personally found the vibration feature to be great foreplay (and I usually don't like vibrating toys), but I eventually turned it off so I could really concentrate on making sure the toy rubbed me the right way. It took a lot of effort to keep my free hand off my cock, but I was determined to find out what this silicone toy could do all by itself.
I was getting really turned on, and my cock was throbbing with every stroke of the toy in my tight ass. Every throb would send this shiver of pleasure up my entire body, and then before I even realized what was happing a huge spurt of cum shot out of my cock as it throbbed. It was very calm and rhythmic, unlike my usual orgasms, but I could tell that my balls had been completely drained. Also unlike my usual orgasms, I was still horny as hell even after cumming all over the place, and my cock was still rock hard.
I continued playing with the RudeBoy for a few minutes, but I never got quite the same effect again. Eventually I resorted to just jerking off to relieve the tension, which was accompanied by only a small trickle of cum at the end – evidence that sure enough my new toy had completely emptied me in one try . . . but still allowed me to have a second orgasm