January 21st, 2008
I wasn't going to take photos today since I had a ton of stuff to do on the website (obviously, since I'm just now finishing up at 3:30am, yikes!) but I wanted to dress up just for fun. Ok, actually I tried on 5 or 6 outfits – some of the new stuff I bought the other day – wore one outfit for a couple hours, then decided to try something new. And wow . . . I wish I were taking photos today. Well, this outfit is definitely going to be my next photoshoot: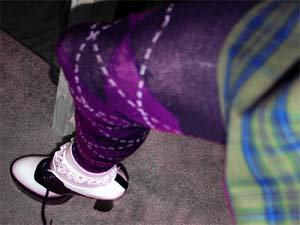 The very best part about the outfit is the shoes! Oh my god, who gets to wear high-heeled saddle shoes?? These shoes are amazing. Ok, they're a little narrow, but they're patent leather, they look exactly like the saddle shoes girls used to wear to school when I was growing up (with the exception of the heel

), and they're really well made. From Trashy.com if you want a pair.
The socks and tights are equally amazing, but they're not new . . . in the interest of fairness though, I'm also wearing my favorite pair of white lace anklets (I add these socks to any outfit that I can because they're unobtrusive but adorable), and a super thick pair of cotton argyle tights. Yes, that's right, cotton argyle tights. Another of those rare items that I absolutely love and treasure.
To finish off the outfit, I'm wearing a green plaid jumper. I was amazed to find this at a regular store (Forever 21 I think), because it really looks like a grade-school jumper. The plaid pattern is authentic. The cut is loose, straight, and pleated. The only "problem" is that it's far too short

Ok, I'm really not complaining about that, I think it's pretty hot.
Hope you enjoyed hearing about my outfit . . . but now that schoolgirl Katie has finished her homework she has some personal things to take care of in her uniform. Don't peak, ok? I'm going to pull my skirt up now . . .